World Famous Irish Pub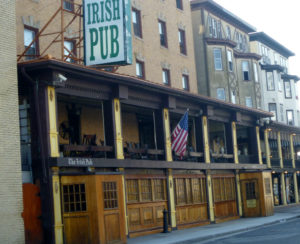 The Irish Pub Atlantic City at St. James Place has been named as America's Greatest Pub by some major magazines. Their menu features their scrumptious St. James Potatoes as an appetizer. The highlights of the menu include Fried Fantail Shrimp, Lightly Breaded Scallops and Fish & Chips. They also serve hot and cold sandwiches, paninis and wraps and mouthwatering desserts like Dutch Apple Pie. Be sure to add this great Pub to your vacation package today!
Knife & Fork Inn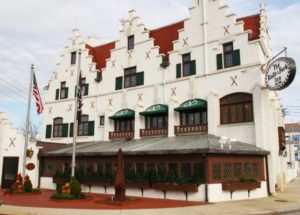 The Knife and Fork Inn is considered one of the most historically charged eateries in Atlantic City. Founded in 1912, the Inn was originally an exclusive men's club. Knife and Fork Inn lasted through prohibition and soon became a favorite until it closed in 1997. In 2005, new owners restored the old restaurant, the Dougherty Family of Docks Oyster fame. The menu is such of a traditional steakhouse, followed by a remarkable wine menu and enough history to satisfy a museum. Check out the history and the delicious cuisine by adding the Knife and Fork Inn to your vacation package today!
Carmine's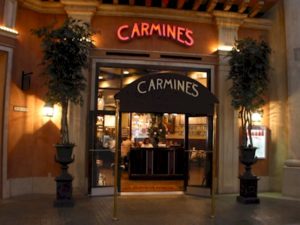 Downstairs in the Tropicana you'll find Carmine's Atlantic City, a NYC style eatery that features dinners on the scale of an Italian wedding feast. You'll think you're back in Grandma's house when the thoughtful and considerate staff starts bringing you the beyond generous portions from their menu cooked in Southern Italian style. From appetizer to dessert, Carmine's Atlantic City will treat you like family. Rounding out this magnificent meal is a full wine and cocktails menu, served with the same generous portions. What a perfect way to spend a night of vacation or a getaway. Add Carmine's to your package today!
Angelo's Tavern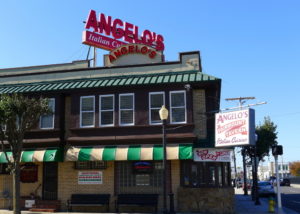 Since 1935, Angelo's Atlantic City has been one of Atlantic City's favorite spots to eat. The Angelo's experience begins with seating in a comfortable setting and continues through great service with excellent Italian food. Three generations have forged a traditional Italian menu that extends to seafood and steaks, all designed to gratify and satisfy the biggest appetite. Try the antipasto to start things off and by the time you get to the coffee and tiramisu, we guarantee you'll be one happy Pisano when you add Angelo's Atlantic City to your vacation or getaway package today!
Breadsticks Cafe & Grill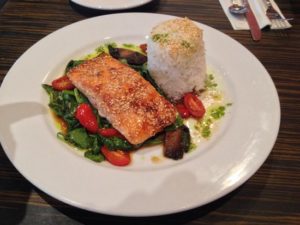 Breadsticks Cafe and Grill at Resorts Casino is a fantastic place to meet your Friends or take your Family to breakfast, lunch or dinner. Open all day with a wide variety to choose from on the menu, from scrambled eggs, omelets, pastries, appetizers, and sandwiches to full entrees. It's a great place to add to your vacation or getaway package.
Atlantic City Bar and Grill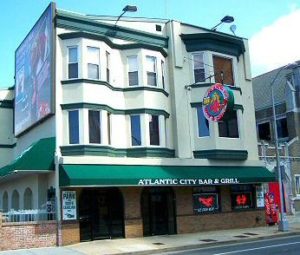 The Atlantic City Bar and Grill has certainly grown since it first started as a small pizzeria twenty-five years ago. It has become a favorite of tourists, locals and celebrities. It's not unusual to catch a glimpse of a celebrity there between filming or performances enjoying the terrific cuisine. Their seafood entrees include traditional dishes like Pasta with Scallops and Shrimp while the meats and poultry feature Filet Marsala and Chicken Francaise. And of course, you can still get a pizza too! Add this popular attraction to your vacation or getaway package today!
Bill's Bar & Burger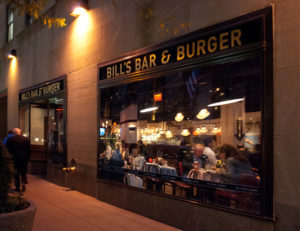 Harrah's Casino serves up Bill's Bar and Burger restaurant, a burger-junkies glimpse of heaven. Burgers with names like Fat Cat, Mini B's and Tuscan arrive at your table in regular and double sizes. Sides include steak fries, sweet potato fries and beer-battered onion rings. What better way is there to enjoy an amazing burger than with an equally incredible shake? These fantastic shakes come in six varieties and are all mouthwatering good. If you're still standing after one of these belly-busters, make room for a Banana Royal with fudge, almonds, whipped cream and cherries. For extra spice, add Goslings Rum. Bill's Bar and Burger is what you want to add to your vacation or getaway package!
 Broadway Burger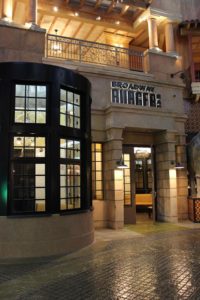 Tropicana counters with a gourmet burger bar of their own, The Broadway Burger Bar. The Broadway Burger Bar offers their fresh ground beef burgers fired over an open flame as well as healthier options for those less than impressed with beef. With 50 craft beers in bottle and on tap as well as a variety of favorite and traditional beers they feature a full service bar to complement their meals. Live music adds to the atmosphere of this great spot. Add this excellent attraction to your vacation or getaway package today!
Landshark Bar & Grill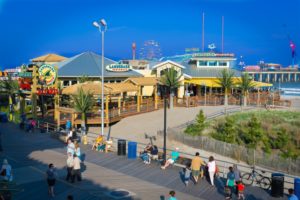 The Landshark Bar & Grille is the only all-year-round spot on the sands of Atlantic City. They are open every day of the year including holidays. Taking inspiration from the classic beach joints that made Oceanside eating famous, the Landshark features retractable walls that open to panoramic views of the ocean and beach events. Their food is everything you would expect, from burgers to shrimp to oysters on the half shell complete with a full service bar. This is perfect place to relax for vacation! Add to your vacation package now!
A Dam Good Sports Bar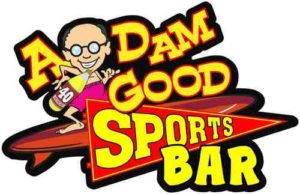 Tucked away in the Quarter of The Tropicana sits A Dam Good Sports Bar. With a name like that, you know they have to live up to it. The atmosphere is excellent with 15 high-definition plasma screens, three 110-inch mega-screens, a billiards room and live music. On the gastronomic side, the food is just as good. The menu features what you'd expect from a sports bar with sliders, burgers and a Mexican selection. And 40 oz. beers! Be sure to add to your vacation or getaway package today and you won't miss any of the game action!
Chelsea Pub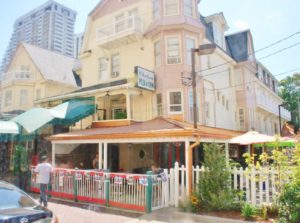 The Chelsea Pub has been a fixture in Atlantic City for over 30 years. This Victorian style building has been keeping visitors captive with their 24 hour pub and grille and the convenience of having their own themed roomed inn upstairs. They serve the standard pub fare such as burgers, alongside oven-baked pizza and a nice list of appetizers. There's a breakfast menu too for the late arrivers or early risers. Add this delicious pub to your package today!
Chickie's & Pete's Crab House – Egg Harbor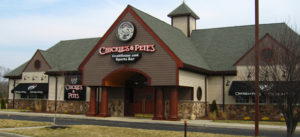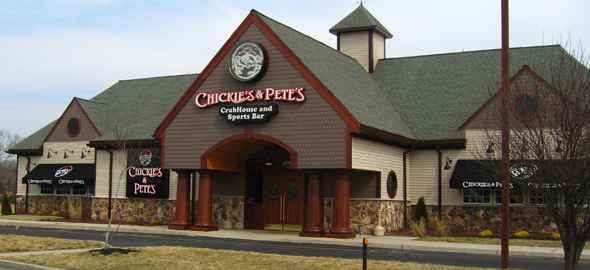 Chickie's and Pete's is one of the Best Sports Bars in the country. Giant Screen TVs showing all the games all the time. An exciting menu and Great Atmosphere are but a few of the reasons to add Chickie's and Pete's to your itinerary. Ideal for a guys getaway or bachelor party to watch your favorite team or bring the entire Family for a fun dinner and eclectic menu; Crabs, Seafood, Steak Sandwiches, Pizza and World Famous Crab Fries are sure to please at Chickie's and Pete's. Be sure to add this famous restaurant to your vacation package today!
Chickie's & Pete's Crab House – Tropicana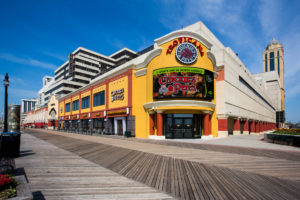 Chickie's and Pete's Tropicana is becoming an Atlantic City favorite rapidly. Being located near the gaming tables in the casino, it makes for the perfect place to grab a snack in between hands. Customer favorites are the crab fries with cheese sauce, lobster roll and of course, perfectly spiced Buffalo wings. The full bar and ocean view tables just round out the great feel of Chickie's and Pete's Tropicana, making them another reason to spend time in the Tropicana and to add to your vacation package today!
Dock's Oyster House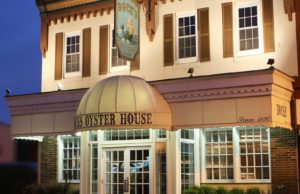 In 1897, Harry "Dock" Dougherty opened the doors of his 60 seat restaurant Docks Oyster House. His vision was to serve seafood and steaks in a friendly atmosphere, and it is still being carried on by the third generation of Dougherty's. Their never-ending dedication to bring classic dishes like Oyster Stew, Pan Sautéed Red Snapper and New York Sirloin to the customers who swarm their restaurant guarantees a pleasant dining experience for all. Experience this pleasant dining by adding Docks Oyster House to your vacation package today!
 Buddakan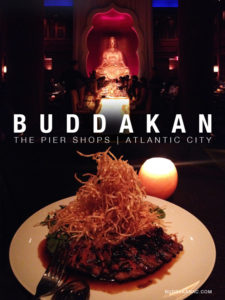 Buddakan Atlantic City brings their take on Asian dinner favorites like Buddakan Style Sashimi and King Crab Tempura to Atlantic City. Pan Seared Sea Bass, Kung Pao Monkfish and Sesame Poached Tuna brighten up any seafood lover's night while Five Spice Duck Breast and Black Pepper Beef fill in the turf part of the menu. Specialty cocktails with names like Enlightenment, Serenity, Devotion and Bonsai will bring you inner peace for sure. Inner peace goes perfect with golf or vacation! Add Buddakan Atlantic City to your itinerary today!
Gallagher's Burger Bar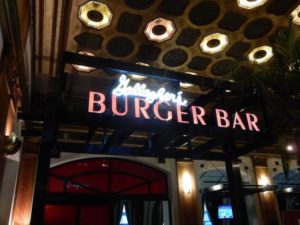 Gallagher's Burger Bar sits directly across from Gallagher's Steak House. If you like burgers and you like beer Gallagher's Burger Bar is the place for you. A full selection of snacks and sandwiches all served with their famous string French fries. It's the perfect place to meet your friends or add to your vacation package and enjoy a great meal at reasonable prices.
 Gallagher's Steakhouse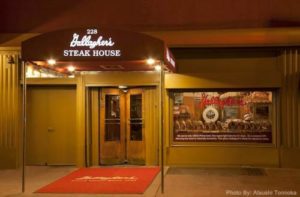 The first Gallagher's Steak House opened in Manhattan in 1927. Founded by Helen Gallagher, a former Ziegfeld Girl, it was famous for its classic noir atmosphere. With dark cherry hardwood floors, dark leather booths and hanging lights Gallagher's Steak House in Atlantic City maintains that character. The menu features Porterhouse Steaks, Filet Mignon and King Cut Prime Rib of Beef. Seafood orders offer Fresh Maine Lobster, Ahi Tuna Steak, and Split King Crab Legs. Try these scrumptious dishes by adding Gallagher's Steakhouse to your vacation package!
Ruth's Chris Steakhouse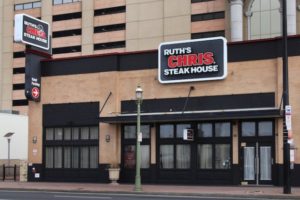 While Ruth's Chris Steakhouse is world renowned for their steaks, shifting away from them is a risk with an incredible taste reward. Their live Maine lobsters, fresh seafood, juicy plump chicken and tender veal are all award-winning dishes guaranteed to make your night out a memorable one. Ruth's Chris Steakhouse offers top of the line salads, the perfect complement to their delicious meals. And just as the only-the-best applies to their meals, that same philosophy extends to their wine cellar and bar. Add this award winning restaurant to your vacation package today!
 Cuba Libre Restaurant & Rum Bar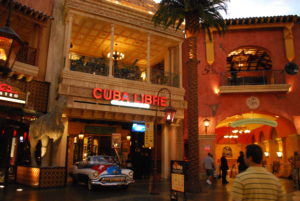 Cuba Libre Atlantic City returns their customers to the nights in old Havana when their salsa dancers and master percussionist sent the rhythms out to their guests. After they light up your eyes and ears, it's time to light up your taste buds. You can continue your trip through the past with the authentic taste of Havana, with their fantastic 15 Tastes of Cuba menu. Start off with Papas Rellenas appetizers and finish with a traditional dessert of Flan. It will be a night you won't soon forget. Why not add it to your vacation that you won't forget? Add to your vacation package today!
Hooters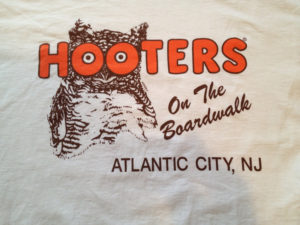 What can be said about Hooters that hasn't been said before? Hooters Atlantic City at the Tropicana is the most visited in the franchise. You're always guaranteed a fun and casual dining experience with their girl-next-door servers. The "nearly" world famous wings they serve up come in a variety of sauces and degrees of heat. Burgers, sandwiches and salads round out the menu while the large selection of beers on draft makes Hooters Atlantic City the place to spend some time eating. You can spend time at Hooters Atlantic City by adding it to your itinerary today!
Izakaya Modern Japanese Pub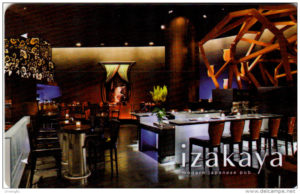 The Borgata Casino brings the world famous Izakaya Modern Japanese Pub to Atlantic City. Chef Michael Schulson's interpretations of classic Japanese cuisine and an atmosphere described as sensual lounge combines in this exciting entry. Menu items include Shishito, Miso Soup and Edamame on the hot side and Yellowtail Tartare and Soba Noodle Salad for cold offerings. Izakaya's dishes for two make it the perfect place to nosh after a full night or after a full round of golf. Add to your vacation package today!
Margaritaville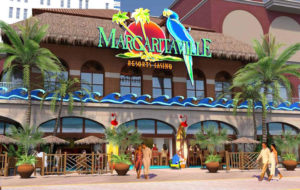 Jimmy Buffet's Margaritaville inside Resorts Hotel Casino will surely help you to adjust your attitude with a change of latitude. The seasonal outdoor experience allows a dinner under the stars with a gentle ocean breeze. Their tiki bar and Buffet-inspired décor, including the giant blender near the door, will inspire you. Their Burgers in Paradise start off a fun seaside styled menu and we guarantee you'll find that lost shaker of salt. Margaritaville is perfect to add your vacation package!
Morton's Steakhouse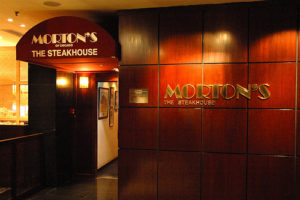 Morton's Steakhouse began in Chicago in 1978 and has grown to 69 restaurants now, including their Atlantic City location in Caesar's Hotel & Casino. Their menu features Double-Cut Rib Lamb Chops, Shrimp Alexander and a stunning mixed grill plate with Filet Mignon, Grilled Shrimp and Bacon Wrapped Scallops. They are known for their USDA Prime-Aged beef, fresh fish and seafood, hand-picked produce and exceptional service. Morton's Steakhouse also carries an impressive wine list to top off any meal. Enjoy this delicious food by adding it on to your itinerary!
The Palm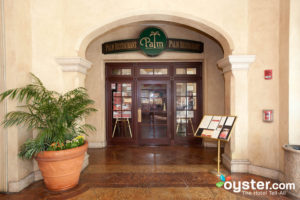 Yet another legendary restaurant in the Quarter is The Palm Atlantic City. The Palm started in NYC as an Italian Restaurant by John Ganzi and Pio Bozzi. The story says that when customers would order steaks, John would run to a nearby butcher and then cook the steak to order. While steaks have now become their signature dish, the Italian dishes are still there as are members of both the Bozzi and Ganzi families. Add this famous restaurant to your vacation package today!
Phillip's Seafood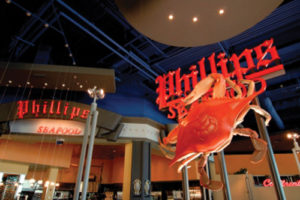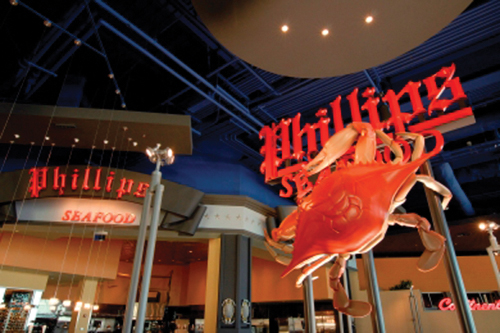 Phillip's Seafood restaurants have the distinction of being named Maryland's Crab Ambassador. Fan favorites include their signature Crab Cakes made from Shirley Phillips original family recipe, Stuffed Flounder and Clam Bake for Two. The bright and cheerful Phillips Seafood Atlantic City serves the classics in their romantic booths three stories above the boardwalk with spectacular views of the ocean. The full bar and the exhibition kitchen brings a fresh perspective to seafood. Add to your vacation package today and try the famous seafood for yourself!
Resorts All You Can Eat Buffet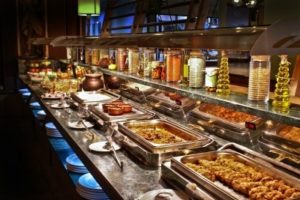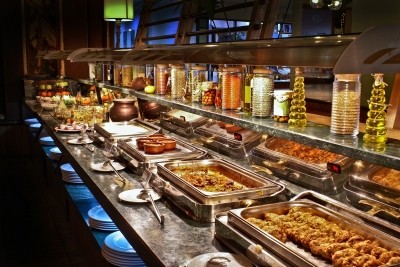 One of the best Buffets this side of the Atlantic Ocean. Seafood, Salad Bar, Soups, Italian, Oriental, Steaks and a Fabulous Dessert Bar make for a delightful culinary experience.  For under $20.00 a person, Resorts Casino Buffet is one of the best food bargains anywhere.* Pay an additional Fee at Time of Service and they will also include all you can eat Crab Legs. This can be a part of your vacation package today!
American Cut Steakhouse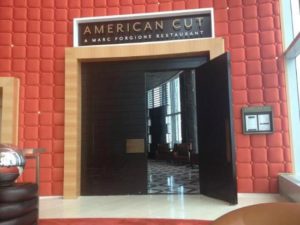 Marc Forgione of Iron Chef treats Atlantic City with his American Cut Steakhouse. The menu is incredible with Forgione's spin on traditional favorites. The most spectacular item is his American Cuts for Two meal featuring a 42 oz. Tomahawk Rib Eye Chop, dry aged for 28 days. He combines that with 2lbs of his Chili Lobster for the ultimate surf and turf dinner. Enjoy this remarkable meal in an atmosphere described as sexy and vibrant. American Cut is a must-try hot spot in Atlantic City.
Ri Ra Irish Pub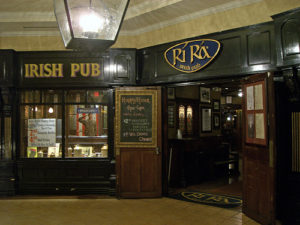 The Rí Rá Irish Pub in the Quarter brings a real feel of Ireland to the Tropicana. The pub offers a classic menu with items such as Guinness Stew, Tipperary Chicken and Sausages & Spuds. The old Victorian Dublin flavor is apparent at the Rí Rá in its detail, making you feel as if you have stepped back in time. The cocktail list is fabulous and whisky and beer selections will have you singing Danny Boy all the way home. Add a taste of Ireland to your vacation package today!
The Crab Trap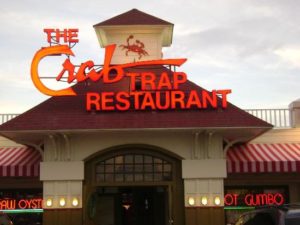 Truly one of the best Seafood restaurants-on the East Coat, The Crab Trap Somers Point is a guarantee for 100% satisfaction every time. Enjoy fine dining at reasonable price with a gorgeous view. Located just outside of Atlantic City on the shores of scenic Ships Channel Bay.  Sneak out to the back dock and enjoy live music, snacks and cocktails at Crabby Jacks, weather permitting. Walk, Drive or Boat to the Crab Trap Restaurant. However you get there you will be glad you made the trip or added it to your vacation package!
The Library III Steakhouse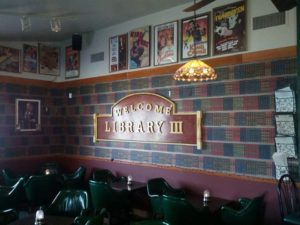 The Library Restaurant is a South Jersey Culinary Institution for Fresh Steaks, Seafood and AWARD WINNING Salad Bar. Great atmosphere and lively libations just add to the great culinary experience you will enjoy at The Library III, located at McCullough's Emerald Links Golf Course. Order your steak, cut and weight of beef directly with the Chef and he will prepare a meal for you that will be the talk of your vacation.  This is the perfect restaurant to add to your golf or vacation package!  If you are so inclined, order the PRIME RIB for an over the top meat lover's dream come true.
Fiesta Buffet At Tropicana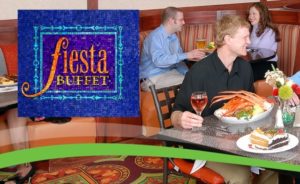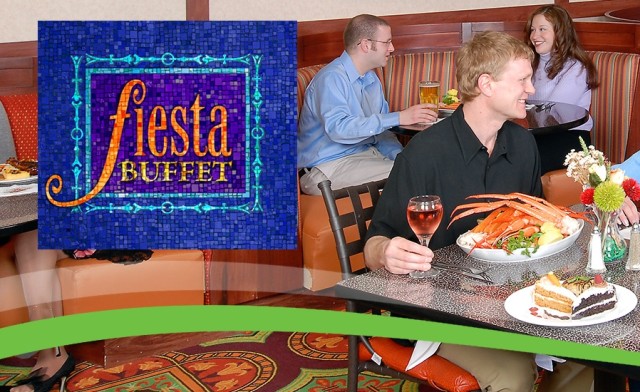 All You Can Eat Buffet Dinner or Brunch at Tropicana casino hotel's Fiesta Buffet. SAVE $5.00 OFF REGULAR PRICE WHEN YOU ADD THIS GREAT MEAL OPTION TO YOUR VACATION PACKAGE!
Wolfgang Puck's American Grille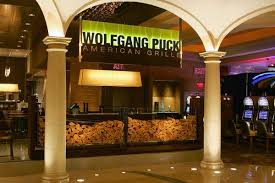 Wolfgang Puck's first east coast venture, The American Grille is a testament to this iconic chef's ability to bring new, exciting twists to traditional meals. Tucked inside the Borgata's contemporary design, the American Grille features Chef Puck's flair for upscale comfort food. His dishes include Truffled Potato Chips with Point Reyes Bleu Cheese, Grilled Prime Burger with Onion Marmalade and Vermont Cheddar and a Grilled Bone-In New York Steak with Tuscan Potatoes. An extensive wine list fills out the experience. Be sure to add Wolfgang Puck to your itinerary!